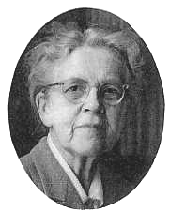 "In spite of the storm, was able to hear your Mass, dear Edouard Michaël, and was very impressed by the emotion it transmits. The authenticity of its expression, really moving. Sorry to say it so badly, but this little message is better than silence. So, very affectionately Nadia Boulanger, 23 juillet 1963."
"My Dear Michaël, You can't imagine how happy I am to have heard this moving and beautiful Nocturne. So true and refined in the best sense of the word. Regret to say it so hastily ' am really overworked ' but, you hear, and so you will know how really I feel happy.
Have always known you are 'a musician' but here is a new aspect of your personality. The orchestra sounds so well ; and it reminds me a score of you I cannot locate in my memory. In the sadness of not seing you is the joy also to see a new turn, I do hope, of your life ' the first steps are the hardest. If Mr Barraud has heard the Nocturne, he must have been pleased to have shown his confidence in the Mass.
I really congratulate you and am really not surprised but very happy ; and with my wishes, I send the wish very strong to see you soon.
As ever,       Nadia Boulanger. 15 Dec 1957"
"The word revelation, so frequently over-used, resumes all its truth and its purity when listening to the work of Edward Michael whose musical "presence" is indisputable.
"This likeable artist must have meditated on Plato's words: "In Art, the artist must always have the ideal of Beauty present." The Parisian press has already spoken very highly of this composer whose Mass, played on the radio, received warm approval from music lovers who were listening. This year, Mr Michael presented "Kamaal", an enchanting tale, to a large and enthusiastic audience. A very charming work, full of personal discoveries; the author has been able to create a skilled and subtle atmosphere of intense poetry. This is music written from the heart and which touches the heart of the listener. The career of Mr Michael, who was recently awarded the Lili Boulanger prize in America, is one to watch; it will certainly have some wonderful surprises in store."
Musiques, Mai 1958.
"The attention of the musical world has been drawn particularly towards Edward Michael after the two performances of his Mass by the French Radio diffusion (Mass for choir, two string orchestras, celesta, harp, glockenspiel and percussion). We declare at once that this work of lofty inspiration cannot leave one indifferent and emphasize that it cannot leave the veritable public indifferent—which is rather exceptional with a contemporary work—for on the whole modern music is not made to please music critics only.
One guesses in this composer a real power of expression, a surprising originality which shows an authentic creative personality, a strongly developed craft.
However, the case of this musician enables us to state once more that it is not necessary to use those so-called vanguard processes to create a new language or a way of expression that does not borrow the current formulas of writing. Without counting that the use of the twelve-note system deprives of all definite entity music based on this system and of all personality the composers who naively believe to be original.
This authentic creative mind, Edward Michael, was born in England by oriental parents. He lived in several regions of the Orient (among which Baghdad) until the age of 19. He then continued his violin and composition studies in London. His teachers were Bertold Goldsmith, Matyas Seiber and, in Paris, Nadia Boulanger."
                                                      Musique et Radio  Fin 1961.
"… I also wanted to mention a young English composer of Eastern origin on his mother's side: Mr Edward Michael.
He is hardly a day over 35, and I was hearing his chamber music for the first time. We were maybe a hundred or so in the audience, who were to experience the revelation of a musician! This was a remarkable attempt to integrate oriental tones into Western music, with all that might bring by way of suppleness, color, and new expression; but beyond what might have been nothing but cunning exoticism, Mr Michael translates the deep movements of a soul yearning particularly towards the heights of philosophical and religious meditation, a soul on a quest for purity, for infinite tenderness, and for living peace. This does not exclude the melancholy, or even the despair of a creature fighting for its ideal and suffering from its failures, imploring God to come to its aid and trusting gently in him, buoyed by hope.
"Contained within 'Elégie', and 'Prière' for Martenot Waves and 'Trois Rituels' for two Waves and tambourine, or the Trio for violin, alto, and cello, is inspiration which seizes you violently, this strange emotion that one experiences is a revelation of beauty.
"There are many young instrumentalists and others, illustrious, who are looking for quality works for their repertoires: they will find better than that in the work of Edward Michael. When can we expect a public concert where everyone will be able to judge for themselves?"
Jean Hamon from the "Combat" newspaper, juin 1954
"…
Independently of the great esteem in which I hold him for his exceptional human qualities, I have the greatest admiration for his work as a composer.
Without allowing himself to be influenced by various contemporary tendencies, Mr Edward MICHAEL displays the traits of total sincerity, always placing his Art at the service of spirituality.
Neuilly, February 8, 1965 "
Maurice Martenot, 1965
director of the ECOLE D'ART MARTENOT, Professor at the CONSERVATOIRE NATIONAL SUPERIEUR de MUSIQUE de PARIS
"Thank you for having told me about Edward Michael's Mass, broadcast at lunchtime. I listened to it so attentively that I didn't notice I'd forgotten to enjoy the excellent dish that I had been served… Don't take this as a criticism, or even a regret, but as evidence that this mass is curiously charming in its sincerity. And one can sense in it what you call 'elevation of the mind'. So, thank you."

André Cadou,
conductor of the Musique de la Comédie Française, 1956.
"Before a full house, the National Orchestra last night presented three new works at the Théâtre des Champs-Élysées.
"Firstly, La Vision de Lamis Helacim, a short symbolic piece by Mr Edward Michael, marked by a sober orientalism, which received much applause. Born in England, but with oriental ancestry, Edward Michael is already known to the Parisian public for a Mass – broadcast twice on the radio – for a symphony for strings, and several pieces of chamber music."
                               Le Figaro, Dernières minutes,  Janvier 1962.